about heather
ARTIST TEACHER MENTOR
​
​
"creating spaces for others
to explore their creative dreams"


Heather was born in Rochester, Victoria, Australia in 1966 and currently lives in the Dandenong Ranges, Victoria. (also lived in Tasmania for 18 years) She is a mother of four boys and has worked in the media and graphic design industry for around twenty-six years, connecting with people from all over the world. She loves drawing and painting large photo realistic images inspired by nature, reflections and water droplets. She is the Managing Director and owner of KAPI ART SPACE, a Studio Gallery in the Dandenong Ranges, Australia, where the mission is to bring individuals and groups fully alive in their creative dreams!
​
Her work is a visual diary, reflecting the life and hope that water brings. Heather was a finalist in the Tasmanian Glover Prize in 2013 & a finalist in the Fleurieu Art Prize Adelaide 2013. She held two exhibitions in Tasmania in 2013 and produced a book based on her works. And has been highly commended in art shows around Melbourne.
Heather currently mentors and teaches creative direction through painting and drawing and runs various courses and programs for people and groups who want to explore the heart rhythm of their creative journey.
​
She has been a coordinator and manager for many community programs in Australia and overseas including festivals, arts programs, and retreats. Heather also enjoys working with indigenous artists, swimming, walking in the Australian bush, and spending time with her family.
​
"I want to take a journey into the small, almost unseen world, that can remind us of the intricate details of a Creator. Real and alive, Creation whispers as loud as we are willing to listen. A miraculous sunrise every day. A shower of rain will leave its glistening trail. Water is not always quiet and peaceful, but there is meaning in each memory. My paintings are big and detailed with water droplets in order to draw me into a closer appreciation of the simple but profound. Each painting is a fresh entry in my visual journal. A glimpse into the present, rippling hope and deep joy through the challenges and delights that life brings."
A moment as the water pools and gathers on leafs end before the droplet falls. In the moment of falling is blessing. One rain drop holds inside it life's reflection. Oh to see deeper with our eyes our home our heart and the blessings of the stranger." Mardee Kaylock
"Water is life itself, we need it as we need air to fill our lungs, however, consider the consequence when the water doesn't stop, when the power it holds becomes destructive, when the turbluence it creates overwhelms." MarDee Kaylock "
Summary
1996 Graduated in Diploma of Graphic Design.
1997-2013 Worked in the Graphic Design industry.
2000-2009 Producer and designer for local Tasmanian country
town newspaper and National youth magazine.
2005 Graduated in Diploma in Youth and Community Work
2007-2013 Production manager & coordinator for annual Faith
and the Arts Summer School and Artists retreats.
2002-2010 Worked with Indigenous Artists in Central Australia to produce
large artworks for youth festivals and programs in Yulara and Mutitjulu NT.
2004-2007 Worked in Albania & Greece coordinating creative
festival activities around the Greece Olympic games.
2012 Began painting professionally
2013 Finalist in the Tasmanian Glove Prize.
Finalist in the Fleurieu Art Prize Adelaide.
2014 People's choice Launceston Easter Festival Art Show
2015 Highly Commended Great Art Show Berwick
2017 Shortlisted for Open Studios - Dandenong Ranges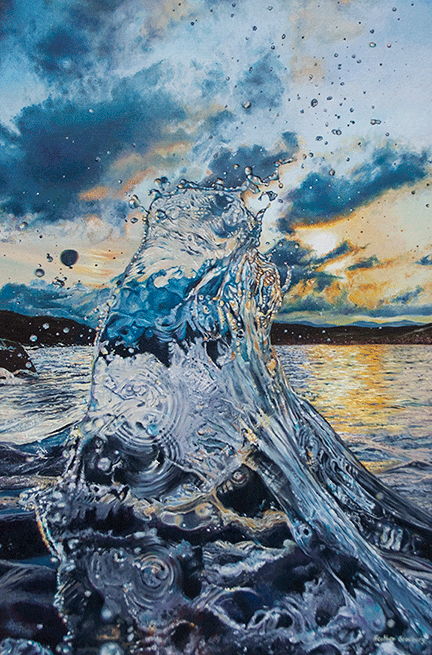 Rock-FINAL
Describe your image here